Air transport safety in UAV operational conditions
Keywords:
UAV, air transport, aviation safety, smart city
Abstract
The article presents the possibilities of using unmanned aerial vehicles in air transport. The use of UAVs in the airspace has become widespread, despite many implemented legal regulations, there are many incidents that threaten not only aircraft during the flight, but also the airport infrastructure. The potential threats and the chances of implementing remedial measures were analyzed. An attempt to evaluate the possibility of maintaining aviation safety at an appropriate level in the conditions of UAV operational conditions has been done. The main research problem was defined as follows: How would implementing unmanned aerial vehicles into the air transport system influence the acceptable level of safety? The article uses theoretical methods such as: system analysis, analysis and synthesis in the field of literature, analogy, comparative method. In terms of empirical methods, an original diagnostic survey was carried out, based on a selected group of people related to the explored topic. In addition, the observation method was used by the feedbacks and observations of the group of air traffic controllers from civil airports (located in Poland). The article describes the current transformation of air transport, taking into account the planned modernizations. It presents the PansaUTM system as one of the countermeasures, monitoring and securing the movement in the airspace. Furthermore, the transponder issue was raised in relation to the enhancement of the UAV identification system, with a  detailed explanation of the importance of the TCAS (Traffic Collision Avoidance System). Referring to the prospects for the development of air transport, the latest design concepts for cargo drones were presented. The issue of full transport autonomy of UAVs was analyzed based on the requirements of legal regulations. The comparison of benefits and threats in conjunction with the conducted empirical methods allowed for the development of conclusions confirming the research hypothesis and indicating the possibility of using remedial measures in the process of UAV evolution.
References
Chenchen X., Xiaohan L., Junming T., Huping Y., Haiying L. (2020) Recent Research Progress of Unmanned Aerial Vehicle Regulation Policies and Technologies in Urban Low Altitude, IEEE, ISSN: 2169-3536. doi: 10.1109/ACCESS.2020.2987622.
Commission Delegated Regulation (EU) 2019/945 of 12 March 2019 on UAS and UAS operators from third countries.
Commission Implementing Regulation (EU) 2019/947 of 24 May 2019 on the regulations and procedures for the operation of unmanned aerial vehicles.
Cymerski J., Wiciak K. (2015) Przeciwdziałanie zagrożeniom powstałym w wyniku bezprawnego i celowego użycia bezzałogowych platform mobilnych, WSPol Szczytno. ISBN 978-83-7462-472-5.
Fellner A., Mańka A., Mańka I. (2015) Analiza zagrożeń wynikających z użytkowania bezzałogowych statków powietrznych (dronów), Wydawnictwo Instytutu Naukowo-Wydawniczego "TTS", 489-491.
Feltynowski M. (2019) Wykorzystanie bezzałogowych platform powietrznych w operacjach na rzecz bezpieczeństwa publicznego, Wyd. CNBOP-PIB, Józefów, s. 199-201.
Journal of the Civil Aviation Authority (2020) Guidelines No. 13 of the President of the Civil Aviation Authority of 16 September 2020 on the implementation of the requirements established by the International Civil Airport Organization (ICAO) - Doc 9859.
Karnowska-Werner M. (2010) Ochrona portów lotniczych przed zagrożeniami terrorystycznymi, [w:] A. Glen, Reagowanie państwa na zagrożenia terroryzmem lotniczym, AON, Warszawa.
Klich E. (2011) Bezpieczeństwo lotów, Radom, Instytut Technologii Eksploatacji - (Bibli. Problemów Eksploatacji), ISBN: 978-83-7789-024-0.
Safety Management Manual, ICAO, Doc 9859, Montreal, 2018.
Sztucki J., Gąsior M., Zając G., Szczelina M. (2011) Zarządzanie bezpieczeństwem lotnictwa cywilnego, Dolnośląska Szkoła Wyższa, Wyd. Naukowe, s. 120, ISBN 978-83-62302-28-4.
www.aerosociety.com/news/life-saving-drones (access date: 23/05/2022).
www.emilyrobot.com (access date: 22/05/2022).
www.i24news.tv (access date: 22/05/2022).
www.keranews.org/health-science-tech/2017-03-22/meet-emily-the-lifeguard-robot-thats-saving-refugees-crossing-the-mediterranean-sea (access date: 21/05/2022).
www.natilus.co (access date: 22/05/2022).
www.pansa.com (access date: 20/05/2022).
www.pansa.pl/pansautm (access: 23.05.2022).
Wytyczne nr 24 Prezesa Urzędu Lotnictwa Cywilnego z dnia 30 grudnia 2020 r. w sprawie wyznaczania stref geograficznych dla systemów bezzałogowych statków powietrznych.
Wytyczne nr 7 Prezesa Urzędu Lotnictwa Cywilnego z dnia 9 czerwca 2021 r. w sprawie sposobów wykonywania operacji przy użyciu systemów bezzałogowych statków powietrznych w związku z wejściem w życie przepisów rozporządzenia wykonawczego Komisji (UE) nr 2019/947 z dnia 24 maja 2019 r. w sprawie przepisów i procedur dotyczących eksploatacji bezzałogowych statków powietrznych.
Wytyczne nr 8 Prezesa Urzędu Lotnictwa Cywilnego z dnia 13 sierpnia 2021 r. w sprawie sposobu weryfikacji tożsamości kandydatów na uzyskanie kompetencji pilota bezzałogowego statku powietrznego dla podkategorii A2 kategorii "otwartej" podczas egzaminu teoretycznego przeprowadzanego online.
Żmigrodzka M., Krakowiak E. (2018) Systemy zabezpieczeń technicznych w ochronie portu lotniczego, Prace Naukowe Pol. Warszawskiej - Transport, Warszawa, 110.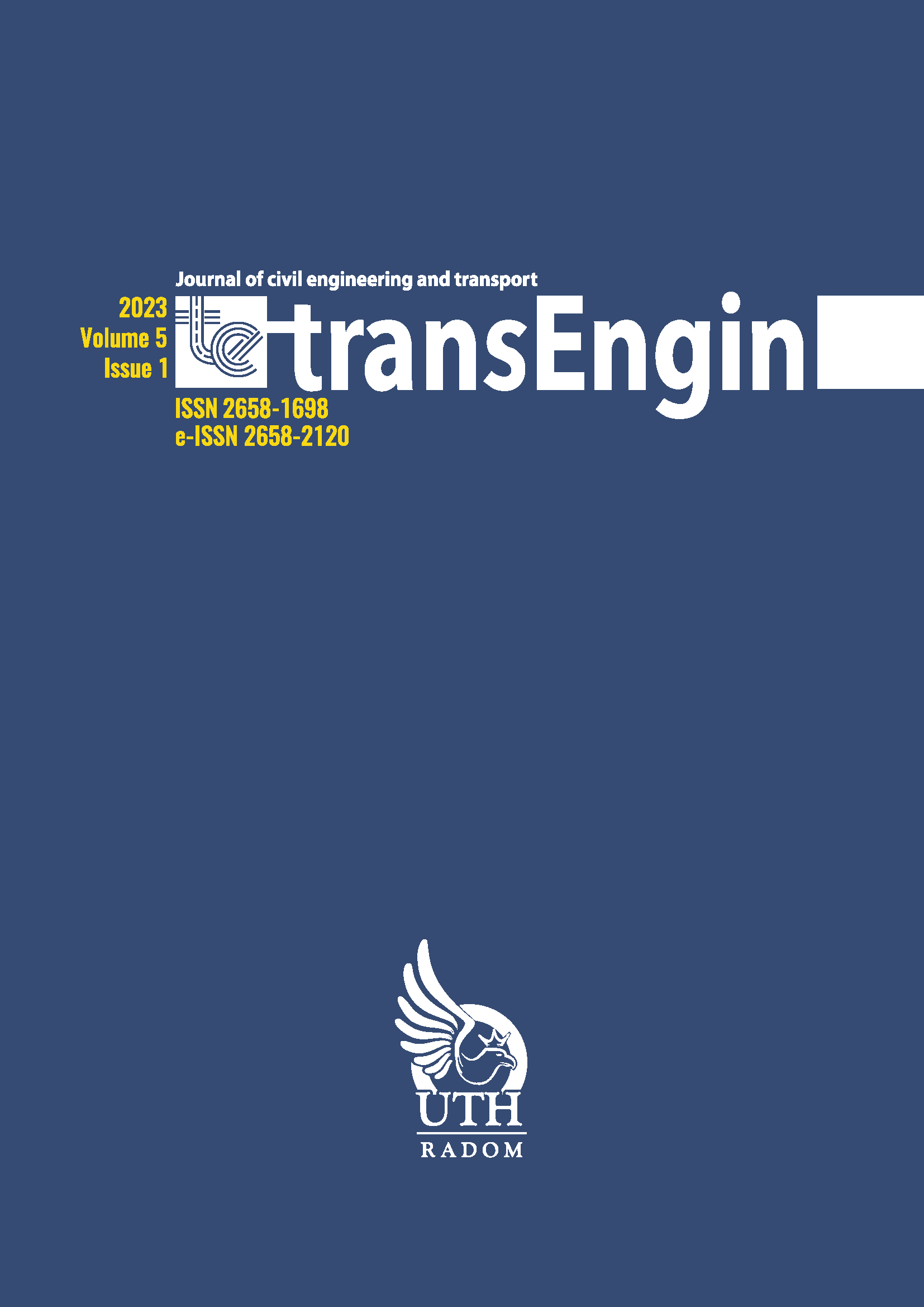 Downloads
License
Copyright (c) 2023 Journal of Civil Engineering and Transport
This work is licensed under a Creative Commons Attribution-NonCommercial-NoDerivatives 4.0 International License.