Corporate social responsibility – what is it and how companies functioning on polish market communicate about it?
Marta Karwacka

Nicolaus Copernicus University in Torun
Abstract
Corporate social responsibility (CSR), the well known idea in the developed countries, is becoming more and more important also in the Polish reality. The article contains a characteristic of corporate social responsibility and the role of stakeholders. Nowadays, the necessity to create and maintain positive relations with business environment is extremely important, which can be proved by many boycotts of companies that violate employees' rights, human rights or animal rights. The development of consumer movements is so dynamic that in the western countries there are more and more entrepreneurs who attempt to inform their consumers about their social engagement. How is this problem outlined in the Polish reality? The last part of the article presents the results of a research conducted at The Faculty of Economic Sciences and Management, Nicolaus Copernicus University in Toruń, which shows that communicating social engagement by means of the Internet does not constitute the strongest side of Polish companies. However, it seems that this form of communication has already started to develop in Poland.
Downloads
Download data is not yet available.
References
Bonini S., Mendoga L., Oppenheim J., Kiedy kwestie społeczne nabierają znaczenia strategicznego, Przegląd organizacji 5/2006
Drucker P., Praktyka zarządzania, Czytelnik, Nowoczesność, Akademia Ekonomiczna w Krakowie, Kraków 1998
Garski K., CSR-a co to jest?, Manager Magazyn, maj 2007
Goodpaster K.E., Matthews J.B., Czy osoba prawna może mieć świadomość? w: Harvard Business Revew - Społeczna odpowiedzialność przedsiębiorstw, Wydawnictwo Helion, Gliwice 2007
Greszta M., Kozakiewicz M., Indeks BI-NGO 2007. Komunikacja społecznego zaangażowania firm poprzez Internet, Instytut Partnerstwa i Organizacji Pozarządowych BI-NGO, Łódź 2007
Jan Paweł II, Centesimu Annus, Wydawnictwo Wrocławskiej Księgarni Archidiecezjalnej TUM, Wrocław, 2000
Just good business, A special report on corporate social responsibility, The Economist, January 19th-25th 2008
Kuraszko I., Panek-Owsianka M., Rok B., Zadrożna K., CSR w firmie – zysk dzięki odpowiedzialności. Przewodnik FORBESA, Axel Springer Polska sp z o.o., Warszawa 2007
Lista 2000 polskie przedsiębiorstwa, Rzeczpospolita, 31.10.2007
Martin R. L., Macierz prawości, w: Harvard Business Review - Społeczna odpowiedzialność przedsiębiorstw, Wydawnictwo Helion, Gliwice 2007
Porter M.E., Kramer M.R., Filantropia przedsiębiorstwa jako źródło przewagi konkurencyjnej w: Społeczna odpowiedzialność biznesu, Harvard Business Review, Wydawnictwo Helion, Gliwice 2007,
Rok B., Odpowiedzialny biznes w nieodpowiedzialnym świecie. Akademia Rozwoju Filantropii; FOB, Warszawa 2004
Żemigała M., Społeczna odpowiedzialność przedsiębiorstwa, Wolters Kluwer Polska Sp. z o. o, Kraków 2007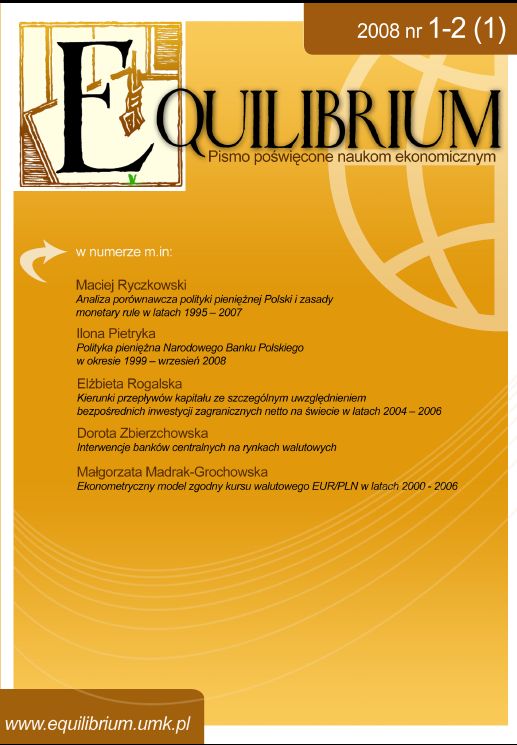 How to Cite
Karwacka, M. (2008). Corporate social responsibility – what is it and how companies functioning on polish market communicate about it?. Equilibrium. Quarterly Journal of Economics and Economic Policy, 1(1-2), 183-194. https://doi.org/10.12775/EQUIL.2008.013