Selected problems of transport policy in the carriage of cargo
Ewa Kempa

Czestochowa University of Technology
Keywords:
policy, cargo, transport problems
Abstract
Efficient transport is necessary for the economic development of the country and the free flow of goods in the global process. It also affects the development of entrepreneurship in the field of transport services offered by transport entities on European markets. The article presents the problems related to the carriage of cargo within the European Union. Attention is paid to the importance of transport processes for the economy and the need to ensure their safety. The article shows the importance of various modes of transport, with particular emphasis on road transport and tried to assess the position of Polish transport companies against the background of EU competition.
Downloads
Download data is not yet available.
References
Bujak A.: Nowe uwarunkowania funkcjonowania transportu drogowego w Europie, Autobusy 6/2017.
Kwaśniowski S.; Transport, w: Logistyka. Teoria i praktyka, pod red.: S. Krawczyk, Difin 2011.
Mały rocznik statystyczny GUS 2016-2017.
Nowoczesne technologie w logistyce; pod red.: J. Długosz, PWE, Warszawa 2009.
Pisz I., Sęk T., Zielecki, w.: Logistyka w przedsiębiorstwie, PWE, Warszawa 2013.
Pyza D, Miętus M.; Organizacja przewozu ładunków transportem drogowym z uwzględnieniem różnych technologii przewozowych, Prace Naukowe Politechniki Warszawskiej. Transport, 117/2017.
Skowronek Cz., Saryusz – Wolski Z., Logistyka w przedsiębiorstwie, PWE Warszawa 2012.
Starkowski D.; Analiza procesu transportowego na przykładzie wybranego przdsiębiorstwa transportowo-spedycyjnego podczas przewozu truskawek. Część druga – teoretyczne zasady planowania operacji przewozowej. Autobusy 6/2017,
Strategia Rozwoju Transportu do 2020 (z perspektywą do 2030r.) http://prawo.sejm.gov.pl/
Szymonik A., M. Bielecki: Bezpieczeństwo systemu logistycznego w nowoczesnym zarządzaniu, Difin Warszawa 2015.
Transport. Wyniki działalności w 2016 r., GUS, Warszawa, https://stat.gov.pl/
Wojtynek L., Kulińska E., Masłowski D., Dendera-Gruszka M., Juranek K.; Planowanie, organizowanie i koordynowanie transportu ponadgabarytowego w przedsiębiorstwie, http://www.ptzp.org.pl/files/konferencje/kzz/artyk_pdf_2017/T2/t2_108.pdf
www.logistyka.net.pl
Ziebuhr M. , Kopfer H.; Solving an integrated operational transportation planning problem with forwarding limitations, Transportation, Research Part E: Logistics and Transportation Review, Volume 87, March 2016, DOI,.org/10.1016/j.tre.2016.01.006.
Żak J.; Transport w: Logistyka, pod red. D. Kisperska-Moroń, S. Krzyżaniak, Biblioteka Logistyka, Poznań 2009.
Żak J; Parametryzacja elementów procesu transportowego, Logistyka, 4/11.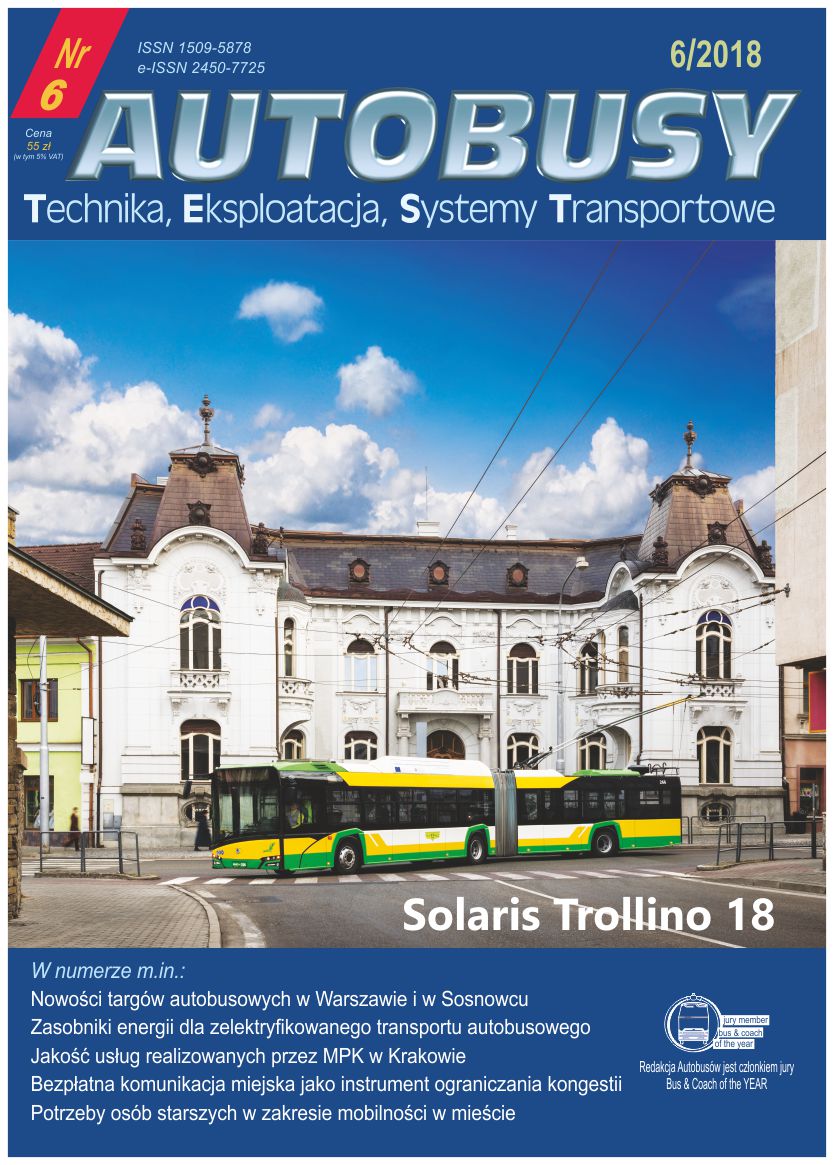 This work is licensed under a Creative Commons Attribution 4.0 International License.