Road transport planning in agricultural undertaking
Mirosław Zagróda

University of Agriculture in Krakow

Tadeusz Juliszewski

University of Agriculture in Krakow

Paweł Kiełbasa

University of Agriculture in Krakow

Tomasz Dróżdż

University of Agriculture in Krakow
Keywords:
road transport, planning, agricultural
Abstract
The article presents road transport planning in an agricultural enterprise using a GPS system for recording the work of transport means and assessing the efficiency of internal and external transport. The research was carried out in an agricultural enterprise during winter wheat harvest, winter rape and corn for grain from a total area of 460 ha. The fields were located from the headquarters within a radius of 10.75 km. A total of 4479.8 tons were transported. On the basis of the results obtained, the duration of the course with and without cargo was calculated, the turnover time, the size of the freight stream and the operational and technical speed.
Downloads
Download data is not yet available.
References
Adamczyk F., Hałas ciągników w warunkach polowych, "Journal of Research and Applications in Agricultural Engineering" 2005,vol. 50, no. 1, s. 16-20.
Caban J., Maksym P., Marczuk A., Droździel P., Wybrane zagadnienia zanieczyszczenia środowiska hałasem pochodzących z pracy maszyn i urządzeń rolniczych, "Autobusy" 12/2016, s. 55-58, ISSN 1509-5878.
Dziurdź J. Zagrożenia człowieka w środowisku pracy. Drgania i hałas, "Oficyna Wydawnicza Politechniki Warszawskiej", Warszawa 2011.
https://www.horsch.com/pl/produkty/woz-przeladunkowy/titan-uw/
Juliszewski T., Cieślikowski B., Kiełbasa P., Bąba S., Ergonomiczna charakterystyka urządzeń sterowniczych we współczesnych ciągnikach rolniczych o mocy od 130 KW do 165 KW. Czasopismo Logistyka, nr 6/2014, ISNN 1231-5478, s. 4938-4955.
Kiełbasa P., Juliszewski T., Pawłowicz J., Dróżdż T., Zagórda M., Sęk S., Ergonomiczna analiza wybranych stanowisk pracy kierowców samochodów ciężarowych, "Autobusy" 12/2016, s. 1030-1037, ISSN 1509-5878.
Komorek A., Kowalik R., Bieńczak R., Wyznaczenie dokładności pozycji obiektów ruchomych w przestrzeni 3D, "Autobusy" 12/2016, s. 1038-1042, ISSN 1509-5878.
Sałat R. 2013. Układy mikroprocesorowe i sensory w maszynach rolniczych. Współczesna inżynieria rolnicza - osiągnięcia i nowe wyzwania. Monografia. Polskie Towarzystwo Inżynierii Rolniczej, 2013, t. I, 263-285. ISBN 978-83-935020-3-5.
Twaróg J., Logistyczne wskaźniki oceny transportu w przedsiębiorstwie produkcyjnym. Logistyka 2/2004. s. 27-30.
Walczykova M, Kiełbasa P., Zagórda M. 2016. Pozyskanie i wykorzystanie informacji w rolnictwie precyzyjnym. Monografia. Polskie Towarzystwo Inżynierii Rolniczej. ISBN 978-83-64377-03-7.
Zagórda M., Kiełbasa P., Juliszewski T., Dróżdż T., Szczuka M., Rejestracja pracy środków transportowych z wykorzystaniem systemu GPS, "Autobusy" 6/2017, s. 1298-1301, ISSN 1509-5878.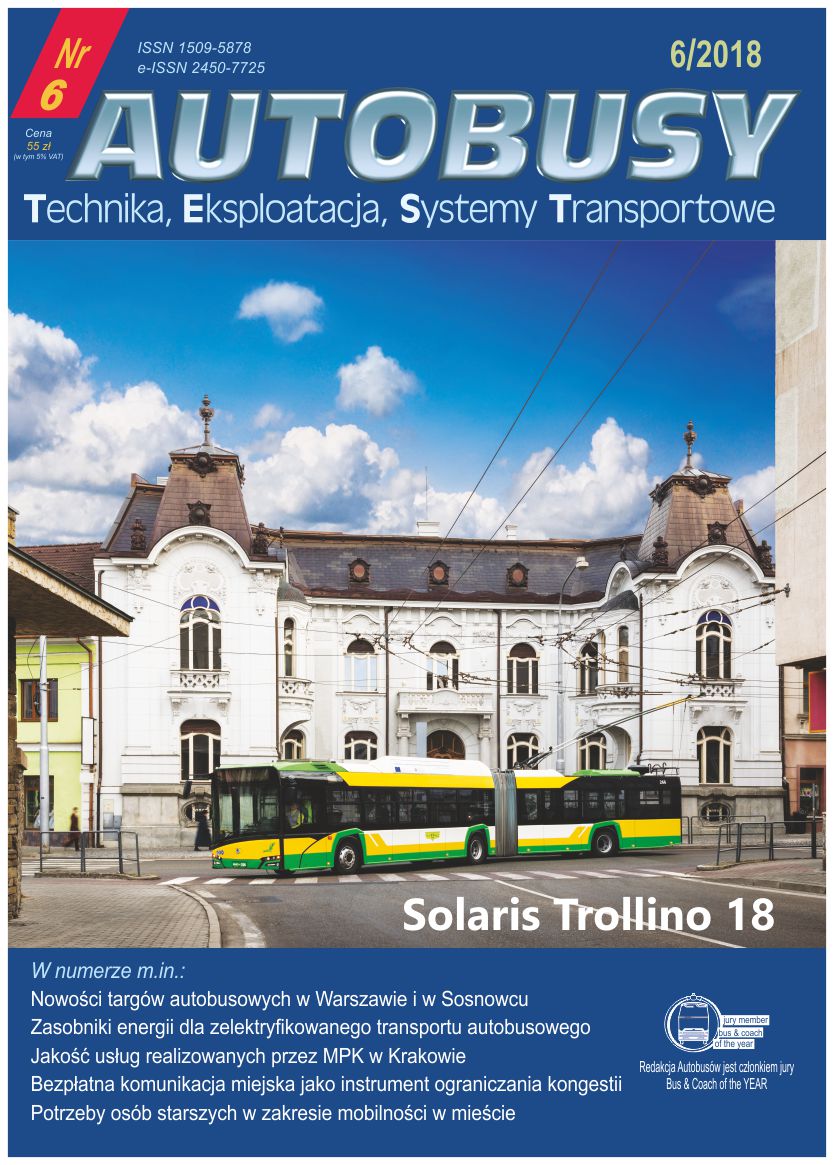 This work is licensed under a Creative Commons Attribution 4.0 International License.