Road identification method for the roads of the greatest importance in the context of transportation of sensitive goods and exporting meat products
Piotr Trojanowski

Maritime University of Szczecin
Keywords:
road, transportation, meat products
Abstract
The first part of the paper presents the characteristics of sensitive goods and legal regulations on the conditions that must be met for transportation of the analyzed type of loads by specific means of transport. Next, it describes the identification methods for the roads that have the greatest importance in the context of transportation of sensitive goods. The effect of the method suggested herein, is presented by discussing transportation of meat products in Poland. The final part of the article contains its summary, conclusions, and directions for future research.
References
Brdulak J., Zakrzewski B., Nowacki G., Bezpieczeństwo infrastrukturalne przedsiębiorstw a pilna potrzeba rozwoju infrastruktury transportu drogowego we wschodniej Polsce, "Autobusy: technika, eksploatacja, systemy transportowe" 2017, 18.
Filina-Dawidowicz L., Heinrich P., Filin S., Koncepcja sieci miejsc specjalistycznej obsługi samochodów-chłodni na terenie polski: studium przypadku, "Autobusy: technika, eksploatacja, systemy transportowe" 2017, 18.1-2: 59-65.
Gaca S., Suchorzewski W., Tracz M., Inżynieria ruchu drogowego. WKiŁ, 1999.
https://www.wetgiw.gov.pl/handel-eksport-import/ogolne-listy-zakladow-i-podmiotow-uprawnionych.
Jacyna M., Semenov I. N., Trojanowski P., The research directions of increase effectiveness of the functioning of the RSA with regard to specialized transport, "Archives of Transport" 2015, 35(3): 27-39.
Karoń G., Łazarz B., Wybrane zagadnienia budowy modelu ruchu, "Logistyka" 2010, 4: 1-11.
Krzewińska A., Matysek K., Wymagania stawiane środkom transportu żywności, "Autobusy: technika, eksploatacja, systemy transportowe" 2012, 13: 240-246.
Regulski P., Abramek K. F., Analiza potoków pasażerskich komunikacji miejskiej na trasie przebiegającej wzdłuż linii kolejowej nr 406 na odcinku Szczecin Główny – Police, "Autobusy: technika, eksploatacja, systemy transportowe" 2017, 18.
Rozporządzenie Rady (WE) nr 1/2005 z dnia 22 grudnia 2004 r. w sprawie ochrony zwierząt podczas transportu i związanych z tym działań.
Tang, T. Q., Caccetta, L., Wu, Y. H., Huang, H. J., Yang, X. B., A macro model for traffic flow on road networks with varying road conditions, "Journal of Advanced Transportation" 2014, 48(4), 304-317.
Trojanowski P., Analiza użyteczności algorytmów do wyznaczania tras w transporcie drogowym ładunków wrażliwych, "Prace Naukowe Politechniki Warszawskiej. Transport" 2015, 108: 123-137.
Umowa o międzynarodowych przewozach szybko psujących się artykułów żywnościowych i o specjalnych środkach transportu przeznaczonych do tych przewozów (ATP), przyjęta w Genewie dnia 1 września 1970 r.
Umowa europejska dotycząca międzynarodowego przewozu drogowego towarów niebezpiecznych (ADR), sporządzona w Genewie 30 września 1957 r.
Ustawa z dnia 19 sierpnia 2011 r. o przewozie towarów niebezpiecznych.
Ustawia z dnia 21 sierpnia 1997 r. o ochronie zwierząt.
Zhang, Y., Zhang, Y., Haghani, A., A hybrid short-term traffic flow forecasting method based on spectral analysis and statistical volatility model, "Transportation Research Part C: Emerging Technologies" 2014, 43, 65-78.
Żurkowski A., Modelowanie przewozów międzyaglomeracyjnych, "Problemy kolejnictwa" 2009, 148: 5-47.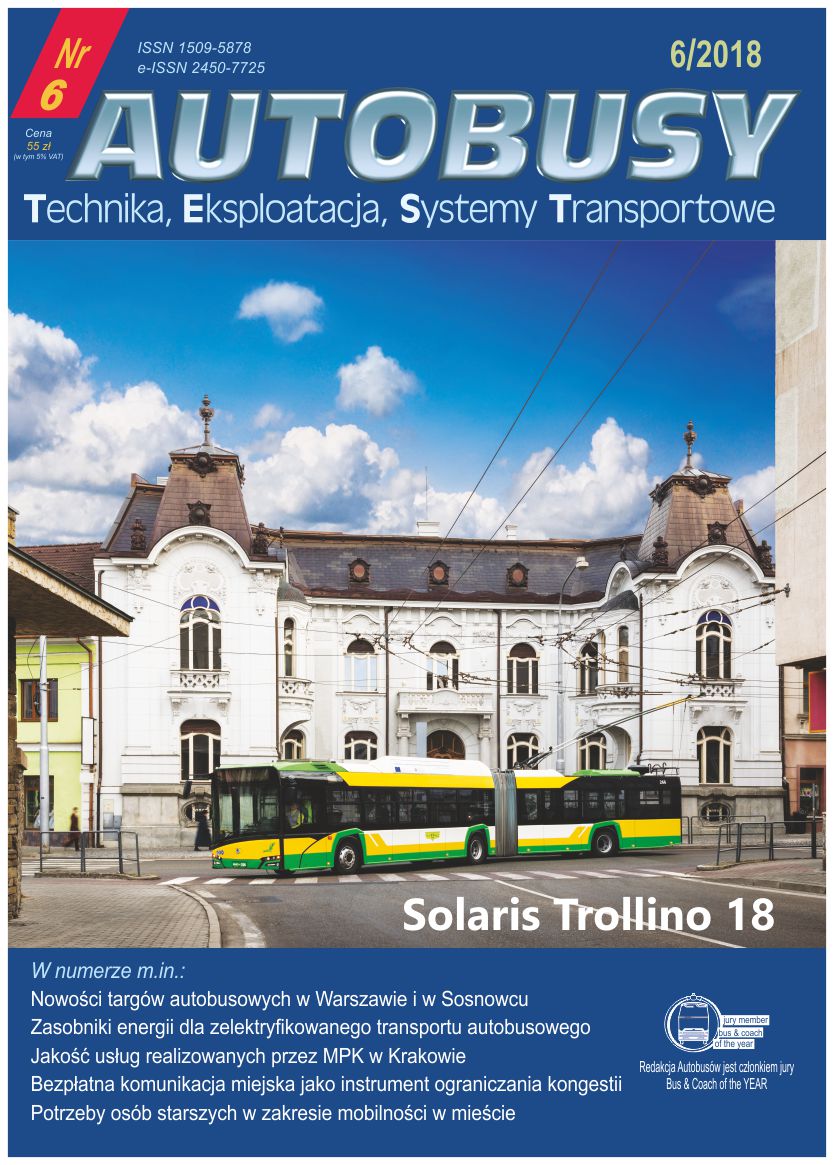 This work is licensed under a Creative Commons Attribution 4.0 International License.