Analyzing the Ataturk Airport Services
Selma Kir

Istanbul University

Andrej Novak

University of Žilina, Univerzitná
Keywords:
analysis, airport service
Abstract
Ever since we started air transportation, we have found new ways of traveling more safely everyday with technologies that push the limits of our imagination. Air transport has been connecting the continents with each other. Increased the volume of trade and made it easier to trade with the HUB concept. Airline companies are in the advertising competition while the safety of the flight is at the forefront. Each is more aimed at flying to the region and more often operating. At this point, the limits of competition have been so difficult that our lives have entered different levels of service, including low-cost and traditional. Low-cost airline companies aimed to reduce their costs by cutting some services in the airplane. such as the right to baggage being offered as a separate entitlement other than the ticket price. this service does not mean to cut off safety precautions regularly. Airlines continue to keep all security systems as strong as ever. The purpose of these discontinuities is to make as much of the costs of course as possible and to offer cheaper tickets to passengers. On the other hand, traditional airlines aim to keep passengers 'journeys as comfortable as possible by keeping passengers' services at a nearly luxurious level. Whichever is chosen depends on the needs of the traveller at the moment. Of course, it is no surprise that air travel in the world is so popular. Despite the fact that it is the most expensive transportation vehicle compared to land, sea and railway transportation, İt has always been the first preferred transportation facility by making the travel speed and the intercontinental passage very easy. This intensive preference certainly ensured the formation of HUB centers. HUB is a transfer center built on the world we mean. There are various transfer centers in the world. The most important feature for a HUB is the fact that it is the center of the transfer points. This ensures that the traveler or objects reach the point where they need to reach it strategically in the fastest and safest way without making too many transfers. When we examine in this context as a HUB HUB is a natural Ataturk Airport in Turkey. Ataturk Airport is located on an area of 11,776,961 m2. The terminal with a capacity of 27.5 million passengers per annum has an area of 330.500 m2, 62,500 m2 domestic lines terminal and 268,000 m2 international lines terminal. Ataturk Airport has three pists. Two concrete paved runways is 3000x45 meters. The other is 2600x60 meters and it is covered with Asphalt (Stone Mastic). The right of intention is owned by DHMİ (State Airports Authority) and the terminal operator is TAV Holding. Ataturk Airport is a 60-year-old city that serves the nearest million passengers and is an important hub. Ataturk Airport, shortly growing today, Europe is the fourth largest, the world's 13th airport has become. Ataturk Airport serves more than 160 passengers daily giving. Ataturk Airport has a great advantage due to its location which connects Asia and Europe. which Ataturk Airport is the 6th airport with the highest hub connection worldwide. Today, 128 airline companies from the Ataturk Airport make an entrance to and depart from Ataturk Airport with 276 destinations in 110 countries of the world. Among them airline companies internationally among the world's greatest; Lutfhansa, Air France, KLM and more. When we look at domestic airline companies, we see that HUB carrier is Turkish Airlines with a market share of 75%. Onur Air, Atlas Global and Pegasus Airlines are other stakeholders. When we look at low-cost airline companies that operate at Ataturk Airport, we can say that there are few at the level that can be tried compared to the traditional airlines and domestic airlines. We can see that the biggest traditional local airline company is Turkish Airlines. Pegasus Airlines is the local airline company that has taken the lead in terms of low-cost service. Market share for service type, the result is as follows; Traditional airline companies are the ones that make the most flights to Ataturk airport with a rate of 98.4%. Low cost carriers are operating at 0.9% at Ataturk Airport, including Onur Air and Pegasus Airlines.
Downloads
Download data is not yet available.
References
Bilstein, Roger. Flight in America: From the Wrights to the Astronauts, Rev. ed. Baltimore: The Johns Hopkins University Press, 1994.
Davies, R.E.G. Airlines of the United States Since 1914. Washington, D.C.: Smithsonian Institution Press, 1972.
Heppenheimer, T. A. Turbulent Skies: The History of Commercial Aviation. New York: John Wiley & Sons, 1995.
Securities Exchange Act Release No. 42208 (December 9, 1999), 64 FR 70613 (December 17, 1999) (the "Release")
See Letter from Matthew P. Fink, President, Investment Company Institute to, Arthur Levitt, Chairman, Securities and Exchange Commission, dated October 13, 1999.
International Air Transport Association (IATA), Fact Sheet: World Industry Statistics.
Air Transport Association of America (ATA), 2007 Economic Report.
Air Transport Association of America (ATA), Statement on the State of the Airline Industry, Statement for the Record of the Sub-committee on Aviation, Transportation and Infrastructure Committee, US House of Representatives, June 2004.
US Department of Transportation Bureau of Transportation Statistics, Form 41 Airline Traffic and Financial Reports.
G. Tsoukalas, "Convergence in the US Airline Industry: A Unit Cost and Productivity Analysis", MIT Master's Thesis, Department of Aeronautics and Astronautics, August 2007
J. Heimlich, "Outlook: Reaching for the Skies?", Air Transport Association of America, www.airlines.org. January 2007
G. Bisignani, "State of the Air Transport Industry", Address to the Annual General Meeting, International Air Transport Association, Vancouver, June 2006.
Statistics 58th Edition. IATA. Archived from the original on November 25, 2014.
Ferit Çağlar Gündüz, (22/01/2017). Düşük Bütçeli Hava Yolları Listesi. https://www.rotavrupa.com/low-cost-havayollari-listesi/
Vowles, Timothy M.; Lück, Michael (2016). "Low Cost Carriers in the USA and Canada". In Gross, Sven; Lück, Michael. The Low Cost Carrier Worldwide. New York: Routledge. ISBN 9781317025054.
Flybondi official website
Jet Smart official website
Novák Sedláčková, A. Kirschnerová, I. Fleet strategies in business aviation segment: homogeneity versus heterogeneity Vilnius: Vilnius Gediminas Technical University, 2015. - ISBN 978-609-457-867-0.
Amit, R. ve Zott, C. 2001. Value creation in e-business. Strategic Management Journal, 22: 493-520.
Bieger, T., ve Agosti, S. 2005. Business models in the airline sector – evolution and perspectives. S. Auerbach, H. Baum & W. Delfmann (Der.), Strategic management in the aviation industry. Köln: Kölner Wissenschaftsverlag.
Casadesus-Masanell R. ve Ricart, J.E. 2010. From strategy to business models and onto tactics. Long Range, Planning, 43, pp.195-215.
Tomova, A. et. all.: Ekonomika leteckých spoločností : pravidelná osobná doprava, Žilinská univerzita, 2017. - ISBN 978-80-554-1359-4
Chesbrough, H. ve Rosenbloom, R.S. 2002. The role of the business model in capturing value from innovation: Evidence from Xerox Corporation's spin‐off companies. Industrial and Corporate Change, 11(3):529‐555.
Kliestik, T. Majerova, J. Lyakin , Alexander N.: Metamorphoses and semantics of corporate failures as a basal assumption of a well-founded prediction of a corporate financial health (ICESS 2015) : December 30-31, 2015, Paris, France. - Bellflower: Information Engineering Research Institute, 2015. - ISBN 978-1-61275-107-8.
Kuyucak, F. ve Sengur. Y. 2011. A comparative study of airlines operating in Turkish domestic market: Low-cost business model perspective. Journal of Business Review Cambridge, 19(1):62-69.
Koralewski, G. Wrona, R. Dangerous occurrences at airports and monitoring them, Autobusy, 2017, R. 18, nr 12, ISSN 1509-5878
Poświata, A. Pietruszewski, P. The impact of airfield pavement evenness in the safety of the aircraft operations Autobusy, 2016 R. 17, nr 12, ISSN 1509-5878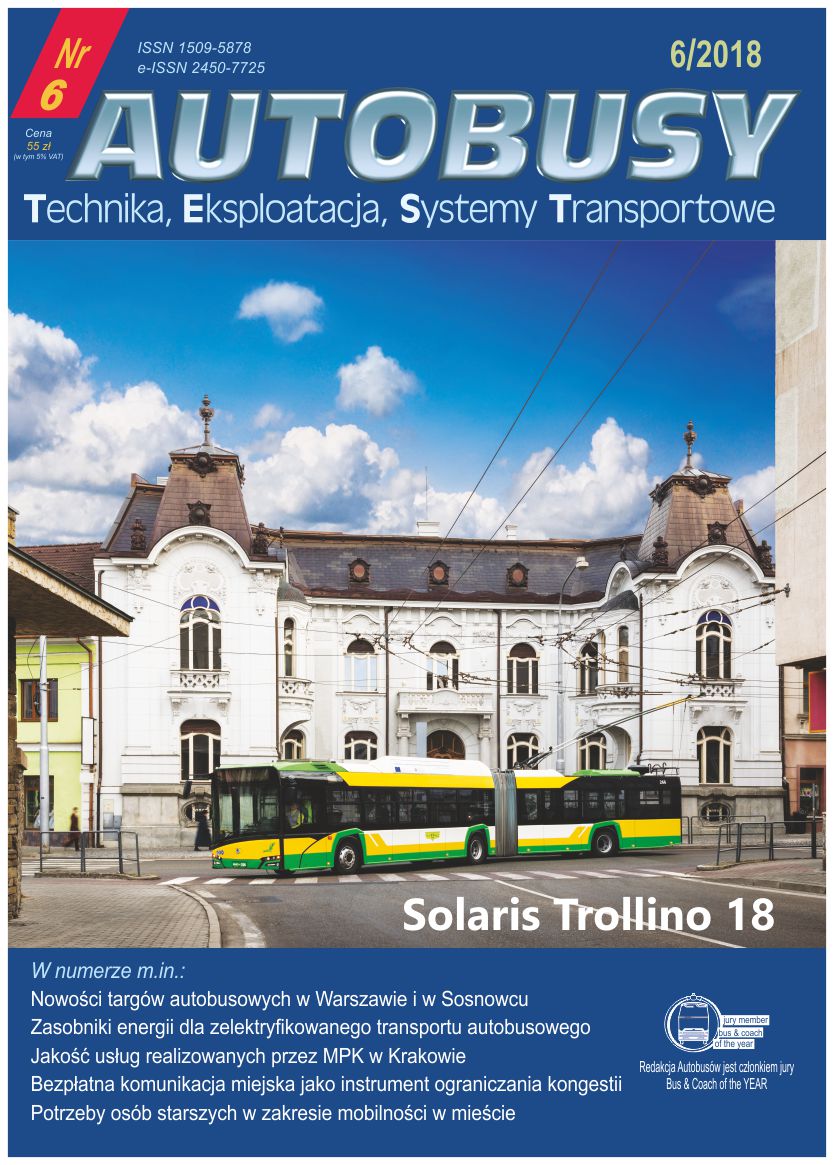 This work is licensed under a Creative Commons Attribution 4.0 International License.