A Simplified Connection of HEV AC/AC Powertrain
Branislav Dobrucký

University of Zilina

Peter Drgoňa

University of Zilina

Slavomir Kaščák

University of Zilina

Michal Praženica

University of Zilina

Pavel Pavlásek

University of Zilina
Keywords:
powertrain, connection
Abstract
Artykuł dotyczy uproszczonej konfiguracji pojazdów hybrydowych HEV. Uproszczenie polega na zmniejszeniu konwertera 4QC wymaganego w trybach hybrydowych. Poza tym tryb pracy w trybie autonomicznej trakcji w trybie akumulatorowym wykorzystuje bezpośrednią konfigurację 0x5 trakcyjnego konwertera macierzy 3x5 McX. Taka konfiguracja może być uzyskana z tego głównego konwertera trakcyjnego. Głównymi zaletami uproszczonego połączenia jest mniejsza wielkość konwertera 4QC - możliwa nieco lepsza wydajność układu napędowego HEV. Dostępne są tryby pracy, modelowanie i układ napędowy układu napędowego skoncentrowany na rozruchu i napędzie trakcyjnym HEV napędzanego przez ICE, rozruch ICE zasilany akumulatorem AB z wykorzystaniem SG jako rozrusznika i napęd trakcyjny zasilany przez AB accu - bateria i hamowanie silnika trakcyjnego, które przenosi energię do akumulatora AB. Wyniki wszystkich eksperymentów symulacyjnych podano w pracy.
Downloads
Download data is not yet available.
References
Dobrucký, B., Kaščák, S., Praženica, M., Pavlásek, P.: Direct AC-AC Propulsion System using Matrix Converter and 5φ traction motor for HEV Vehicle. Communications - Scientific Letters of the University of Zilina, 20(1), pp. 3-11, 2018.
Dobrucky, B., Kascak, S., Prazenica, M., Drgona, P. Pavlasek, P.: AC/AC powertrain control under different HEV supply network. In: ELEKTRO 2018, 12th International Conference on Electrical Engineering, 21st-23rd May 2018, Mikulov, Czech Republic, pp. TBA, ISBN: TBA – accepted for publication.
Dobrucky B.,. Zaskalicky P,. Pavlasek P, "Control of Hybrid-and Electrical Vehicle with Five-Phase IM Motor," Autobusy-Efficiency of Transport, 18(6), 1191-1195, 2017.
Ehsani M., Gao Y., Emadi A., Modern Electric, Hybrid- and Fuel Cell Vehicles, CRC Press, Boca Raton, USA, 2010.
F.A. Wyczalek, Hybrid electric vehicles, Proceedings of the Energy Conversion Engineering Conference and Exhibit (IECEC) 35th Intersociety, vol.1, pp. 349-355, July 24-28, 2000.
Hartani K., Bourahla M., Miloud Y., Sekour M., Electronic Differential with Direct Torque Fuzzy Control for Vehicle Propulsion System, Turk J Elec Eng & Comp Sci, Vol.17, No.1, 2009, © TUBITAK, doi:10.3906/elk-0801-1, no. 6, pp. 21 -38.
S. Bernet; S. Ponnaluri; R. Teichmann, "Design and loss comparison of matrix converters, and voltage-source converters for modern AC drives," IEEE Trans. on Industrial Electronics, Vol. 49, No. 2, 2002.
Rezaoui M.M., Kouzou A., Mahmoudi M.O., Nezli L., Com-parison Performances between Two Matrix Converters [3x3] and [3x5] Supplying a Multi-Phases Induction Machine, Journal of Electrical Engineering, www.jeee.ro.
Dobrucký B., Drgoňa P., Hanko B., Electric Servosystem for Turbocharger Vacuum Actuator Replacement, Autobusy, no. 6 (208), 2017, ISSN 1509-5878, pp. CD ROM.
Zhang B., Bai H., Pekarek S.D., Eversman W., Krefta R., Holbrook G., Buening D., Comparison of 3-, 5-, and 6-phase machines for automotive charging applications, In Proc. IEEE Int. Electric Machines and Drives Conf. IEMDC, Madison, WI, 2003, CD-ROM paper 10642.
Levi E., Jones M., Vukosavic S.N., Toliyat H.A., A novel concept of a multiphase, multi-motor vector controlled drive system supplied from a single voltage source inverter, IEEE Trans. Power Electronics, vol. 19, pp. 320-335, 2004.
Jones M., Levi E., Vukosavic S.N., Independent Control of Two Five-Phase Induction Machines Connected in Parallel to a Single Inverter Supply, 1-4244-0136-4/06/$20.00 '2006 IEEE, pp. 1257-1262.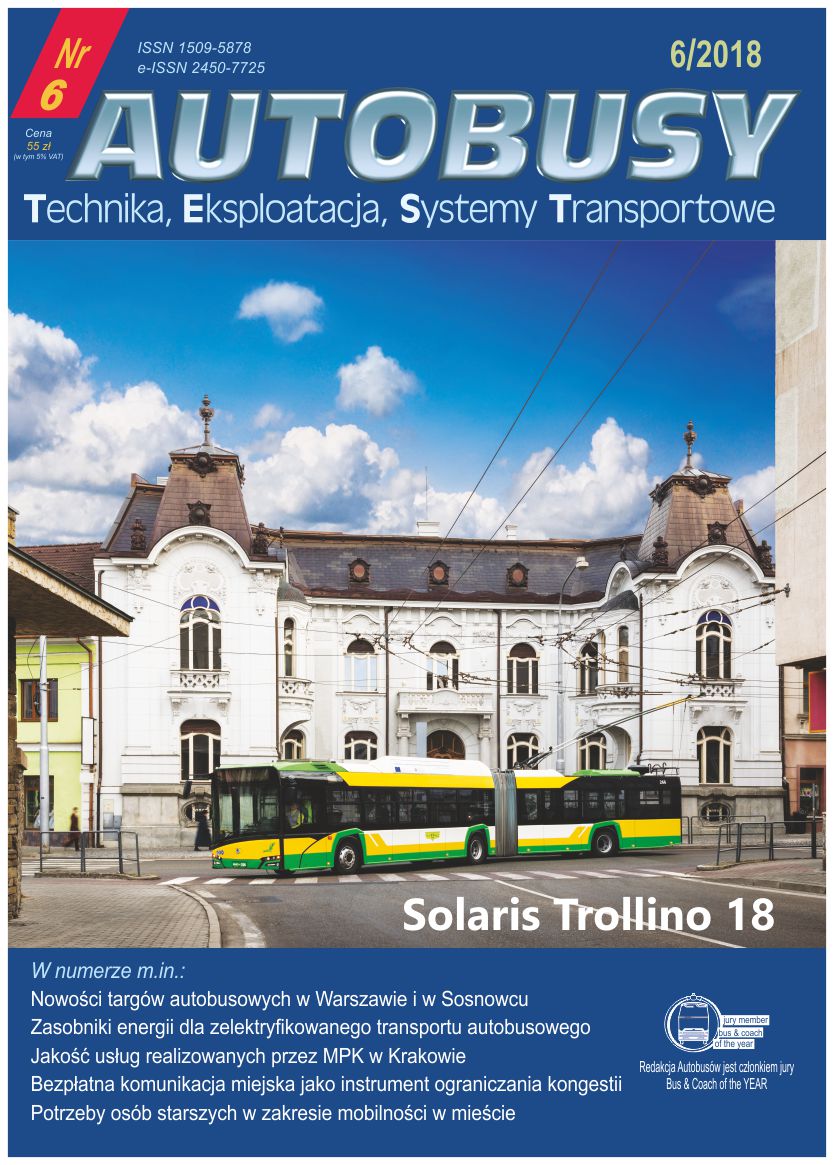 This work is licensed under a Creative Commons Attribution 4.0 International License.