Modelling of car exhaust emission on the basis of data obtained from microscopic traffic flow model
Mikołaj Wiewióra

ATH Bielsko-Biała

Łukasz Drąg

ATH Bielsko-Biała
Keywords:
car, exhaust emission, data, traffic
Abstract
In the paper the procedure for car exhaust emission calculation along the road network has been presented. Input parameters for an emission model were obtained from the microscopic traffic flow model. Traffic simulations have been performed in Vissim software. To analyse emission in a road sections whole network has been discretized into fixed length segments. The examples of traffic flow emission modelling for selected lanes at intersection where the traffic flow is controlled by traffic lights are also presented.
Downloads
Download data is not yet available.
References
Badyta A., Kraszewski A.: Analiza zależności pomiędzy natężeniem ruchu a wynikami monitoringu zanieczyszczeń komunikacyjnych w przekroju automatycznej stacji pomiarowej państwowego monitoringu środowiska w Warszawie, Pojazd a środowisko, Pol. Rad. i Urząd Miejski Radom, 2005.
Brzozowska L., Brzozowski K., Drąg Ł., Transport drogowy
a jakość powietrza atmosferycznego. Modelowanie komputerowe w mezoskali, WKŁ, Warszawa, 2009.
Brzozowska L., Brzozowski K., Komputerowe modelowanie emisji i rozprzestrzeniania się zanieczyszczeń samochodowych, Wydawnictwo Naukowe "Śląsk", Katowice-Warszaw, 2003.
Chłopek Z., Pojazdy Samochodowe: Ochrona środowiska naturalnego, WKiŁ, Warszawa, 2002.
Drąg Ł. Modelowanie emisji i rozprzestrzeniania się zanieczyszczeń ze środków transportu drogowego, Archiwum Motoryzacji, 2007, nr 1.
Jaworski A., Lejda K., Mądziel M., Metody modelowania emisji zanieczyszczeń z pojazdów samochodowych, Eksploatacja
i testy, 2017. nr 6.
Skrzypiński J.: Zintegrowane zarządzanie jakością w miastach. Problemy ochrony powietrza w aglomeracjach miejsko-przemysłowych, Praca zbiorowa pod redakcją Konieczyki J., Zarzycki R., Zakład graficzny Politechniki Śląskiej, 2003.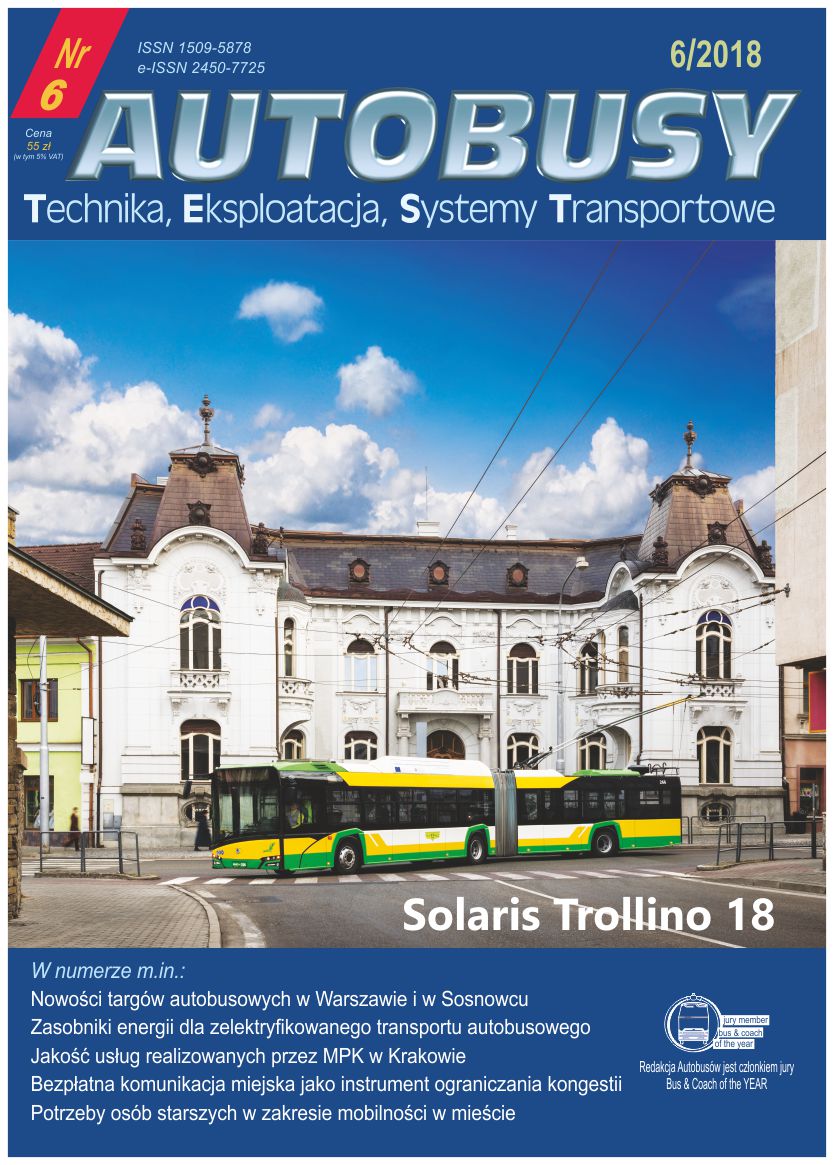 This work is licensed under a Creative Commons Attribution 4.0 International License.