Analysis if shock absorbers efficiency in the eyes of Polish and Slovakian legislation
Piotr Wachowiak

PWSZ Piła

Piotr Gorzelańczyk

PWSZ Piła

Tomas Kalina

University of Žilina
Keywords:
analysis, shock absorbers, Slovakian legislation, Polish legislation
Abstract
The construction of shock absorbers has changed over the years. With the technological development of cars, newer and newer models appeared. The technologies used in shock absorbers have been improved along with their development to meet the requirements of car manufacturers. The main purpose of using shock absorbers in the car is to ensure continuous contact of the wheels with the road surface and the comfort of driving by appropriate damping of vibrations captured from the body. Nowadays, many different types of shock absorbers are used, i.e. mechanical, hydraulic and hydraulic-pneumatic and many others which purpose and construction allows them to work in various atmospheric conditions all over the world. For this reason the shock absorbers of 30 cars traveling on Polish roads were examined at the vehicle inspection station. After the trails these results were contrasted with the legal provisions in force in Poland and Slovakia.
References
Budowa i eksploatacja pojazdów samochodowych, Zeszyt 17 "Demontaż, naprawa i obsługa zawieszenia
Burdzik R., Sobczak P., Metody klasyfikacji uszkodzeń amortyzatorów samochodów osobowych. Zeszyty Naukowe Politechniki Śląskiej 2008 Seria: Transport z. 64 Nr kol. 1803
Cempiel D., Automatic classifier of the kind of car shock absorber damage. Combustion Engines. 2013, 154(3), 1067-1075. ISSN 0138-0346.
Freiwald A., Diagnostika a opravy automobilov I. Bratislava : Kontakt plus, 2009. 280 s. ISBN 978-80-88855-83-5.
Gabryelewicz M., Podwozia i nadwozia pojazdów samochodowych – Układy hamulcowe i kierowniczy, zawieszenie oraz nadwozie część 2.
Gardulski J., Metody badań amortyzatorów samochodów osobowych, Diagnostyla 3(51)/2009
http://autokult.pl/1704,jak-dzialaja-amortyzatory
http://inter-max.eu/index.php?d=oferta&d1=pr&d2=15&d3=7&d4=2&d5=uzywane
http://www.beissbarth-service.pl/produkty/produkty-uzywane/linia-diagnostyczna-beissbarth-stl-7000-detail.html
http://www.ee.pw.edu.pl/~paszkowj/jarek/Diagnostyka/AMORTYZ/Amortyz_Certus.pdf
http://www.meyle.com/fileadmin/user_upload/service/downloads/flyer/FLY_Fed_Daem_Din_L_pl.pdf
https://catalog.polcar.com/Content/Articles/Amortyzatory.pdf
K. Trzeciak., Diagnostyka samochodów osobowych, WKiŁ. Warszawa 2005.
Obwieszczeniu Ministra Infrastruktury i Budownictwa z dnia 27 października 2016 r. w sprawie ogłoszenia jednolitego tekstu rozporządzenia Ministra Infrastruktury w sprawie warunków technicznych pojazdów oraz zakresu ich niezbędnego wyposażenia.
Przepisy zawarte w Prawie o Ruchu drogowym (ostatnie obwieszczenie z dnia 8 czerwca 2017r. kodeks drogowy) z dnia 20 czerwca 1997 roku, regulującej przepisy i zasady obowiązujące uczestników ruchu drogowego.
Rozporządzenia Ministra Transportu, Budownictwa i Gospodarki Morskiej z dnia 21 kwietnia 2015 w sprawie zakresu i sposobu przeprowadzania badań technicznych pojazdów oraz wzorów dokumentów stosowanych w tych badaniach.
Rozporządzenie Ministra Infrastruktury i Budownictwa z dnia 8 listopada 2017 r. zmieniające rozporządzenie w sprawie zakresu i sposobu przeprowadzania badań technicznych pojazdów oraz wzorów dokumentów stosowanych przy tych badaniach. Poz. 2089 Warszawa, dnia 10 listopada 2017 r
Rozporządzenie Ministra Transportu i Budownictwa z dnia 10 lutego 2006 r. w sprawie szczegółowych wymagań w stosunku do stacji przeprowadzających badania techniczne pojazdów.
Šarkan B., Vrábel J., Skrúcaný T., Ševčík M. "Methods of assessing the technical condition of automotive shock absorbers in the road vehicles operation" IN: Machines, technologies, materials: international virtual journal. - ISSN 1313-0226. - Vol. 9 , no. 7 (2015).
Sikorski J., Amortyzatory pojazdów samochodowych – budowa, badania, naprawa, rozdział budowa i działanie amortyzatorów.
Werner J., Budowa samochodów" Konstruowanie podwozi, Wydawnictwo Komunikacji i Łączności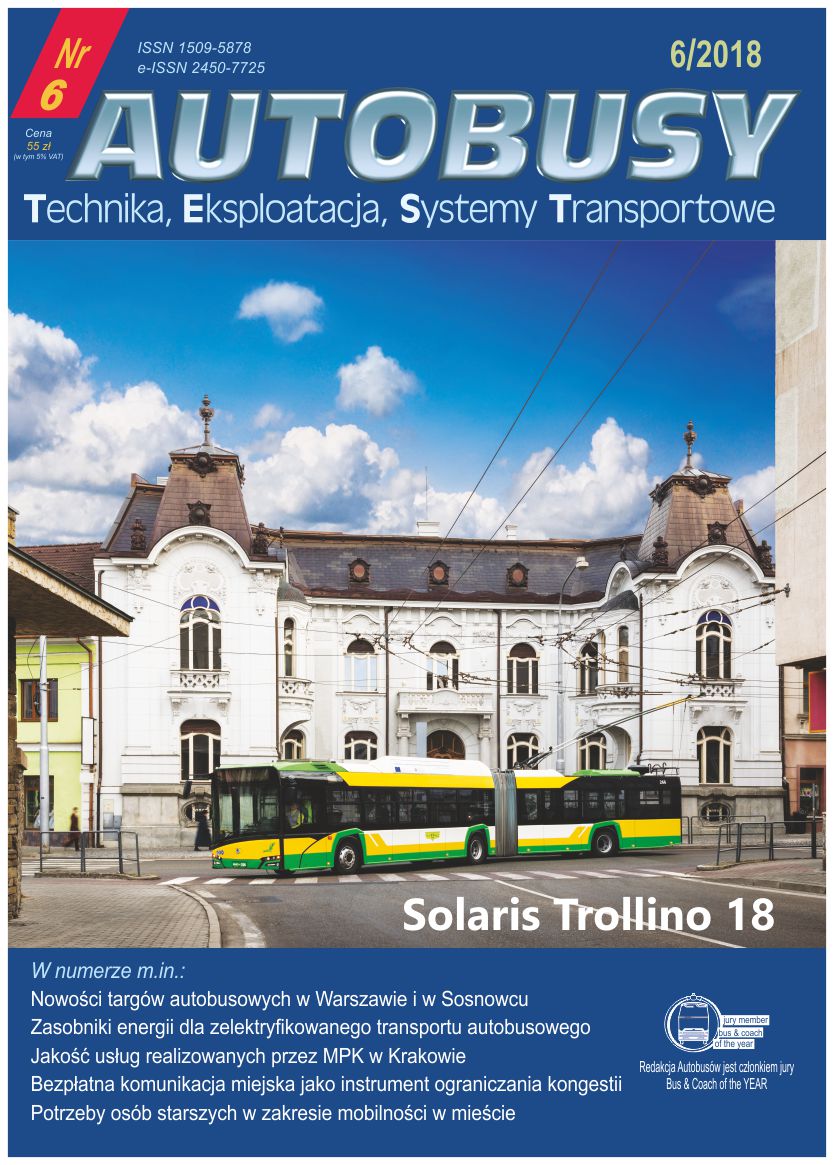 This work is licensed under a Creative Commons Attribution 4.0 International License.