Changes in the European Agreement ADR 2017 and their consequences for car inspection (PTI) in Poland
Paweł Dziedziak

Motor Transport Institute

Tomasz Nielepkowicz

Motor Transport Institute
Keywords:
ADR Agreement, legal regulations, changes in legal acts, Periodic Technical Inspection
Abstract
The article discussed changes in the European Agreement concerning the International Carriage of Dangerous Goods by Road (ADR 2017) regarding the requirements for the construction of vehicles in the context of car inspection (PTI) in Poland. The changes also apply to some of the documents submitted for PTI ispection and issued by an authorized car diagnostician after an additional test.
Downloads
Download data is not yet available.
References
Obwieszczenie Ministra Infrastruktury i Rozwoju z dnia 21 kwietnia 2015 r. w sprawie ogłoszenia jednolitego tekstu rozporządzenia Ministra Transportu, Budownictwa i Gospodarki Morskiej w sprawie zakresu i sposobu przeprowadzania badań technicznych pojazdów oraz wzorów dokumentów stosowanych przy tych badaniach (Dz. U. z 2015 r. poz. 776 z późn. Zm).
Rozporządzenie Ministra Infrastruktury i Budownictwa z dnia 30 czerwca 2017 r. zmieniające rozporządzenie w sprawie świadectwa dopuszczenia pojazdu ADR (Dz. U. z 2017 r. poz. 1309).
Umowa europejska dotycząca międzynarodowego przewozu drogowego towarów niebezpiecznych - ADR 2017 (opublikowana w Dz. U. z 2017 r. poz. 1119)
Ustawa z dnia 20 czerwca 1997 r. Prawo o ruchu drogowym (Obwieszczenie Marszałka Sejmu Rzeczypospolitej Polskiej z dnia 8 czerwca 2017 r. w sprawie ogłoszenia jednolitego tekstu ustawy – Prawo o ruchu drogowym (Dz.U. poz. 1260 z późn. zm.)).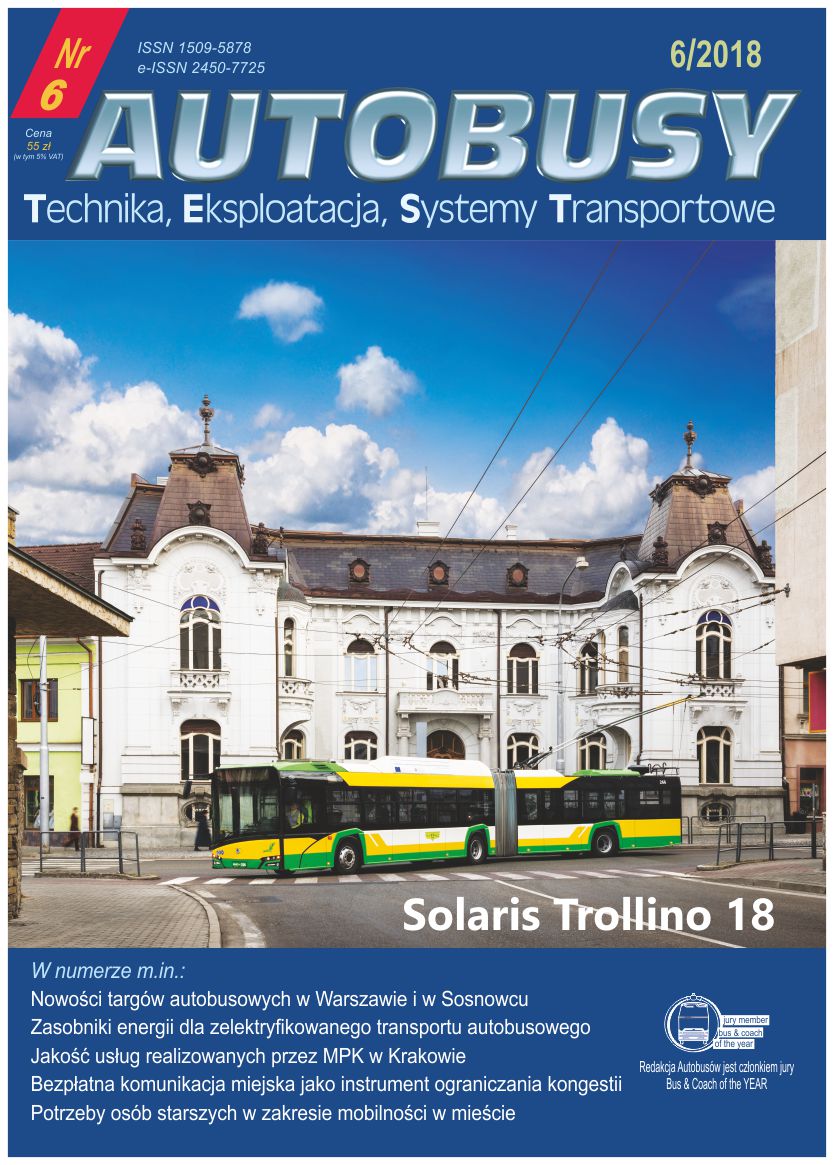 This work is licensed under a Creative Commons Attribution 4.0 International License.