The importance of traffic light signaling for improvement of road transport safety aspects
Katarzyna Sosik

Maritime University of Szczecin

Stanisław Iwan

Maritime University of Szczecin
Keywords:
road transport, intelligent transport systems, road safety, modern transport, transport telematics, traffic lights
Abstract
Undertaking the subject of the application of telematic systems to improve the safety of road transport is caused by the increase of the mobility of the society, their transport needs, which in effect leads to the multiplication of the number of vehicles on the roads. The low level of construction of new roads and modernization of the existing ones is conducive to the occurrence of transport congestion, the number of accidents and road traffic difficulties, and has a negative impact on the natural environment. In the era of modern society, methods are sought that would minimize negative effects in the transport system, thereby increasing road safety. The purpose of this article is to analyse the use of Intelligent Traffic Light in the aspect of road safety. Traffic safety at intersections is reflected in indicators of dangerous situations with the participation of road users in its area. Hence, the selection of the research method and the place of the tests carried out. Implementation of telematic systems supports the construction of a secure road transport network. The authors of the article focused on the analysis of traffic hazards and their consequences in the form of wounded and dead people. In addition, the topic of safety in the road transport system was addressed very precisely, where it was discussed in terms of operation, economic, technical and environmental protection.
Downloads
Download data is not yet available.
References
Bąk J., Gajda D., Wpływ substancji psychoaktywnych na zachowanie kierowców, "Logistyka" 2009, nr 6
Bąk M., Koszty i opłaty w transporcie, Wydawnictwo Uniwersytetu Gdańskiego, Gdańsk 2010.
Bielecki M., Szymonik A., Bezpieczeństwo systemu logistycznego w nowoczesnym zarządzaniu, Wyd. Dyfin, Warszawa 2015.
Biuro Bezpieczeństwa Narodowego, Biała Księga Bezpieczeństwa Narodowego Rzeczpospolitej Polskie, Warszawa 2013, https://www.bbn.gov.pl
Caban J. (red), Inteligentne pojazdy w transporcie drogowym, Logistyka 2014, nr 6.
Chołaj Ł., Inteligentne systemy sterujące sygnalizacją jako element zarządzania komunikacją miejską, Uniwersytet Ekonomiczny we Wrocławiu.
Czarny B., Podstawy Ekonomii, Polskie Wydawnictwo Ekonomiczne, Warszawa 2011.
Foltyński M., Hajdul M., Stajniak M., Transport i spedycja Podręcznik do kształcenia w zawodzie technik logistyk, Seria "Biblioteka Logistyka", Instytut Logistyki i Magazynowania, Poznań 2008, Wyd. II zmienione.
Generalna Dyrekcja Dróg Krajowych i Autostrad, Raport o stanie technicznym nawierzchni sieci dróg krajowych na koniec 2016 roku, https://www.gddkia.gov.pl/.
http://www.canard.gitd.gov.pl/cms/o-nas/jak-dzialamy.
Jamrozik K., Oddziaływanie ITS na brd, http://edroga.pl.
Komenda Główna Policji, Wypadki drogowe w Polsce w 2015 roku, http://statystyka.policja.pl/.
Komenda Główna Policji, Wypadki drogowe w Polsce w 2016 roku, http://statystyka.policja.pl/.
Koźlak A., Inteligentne systemy transportowe jako instrument poprawy efektywności transportu, Logistyka 2008, nr 2.
Krystek R. (red) Zintegrowany System Bezpieczeństwa Transportu – Diagnoza Bezpieczeństwa Transportu Drogowego, TOM I, Wydawnictwo Komunikacji i Łączności, Warszawa 2009.
Mendyk E., Ekonomika transportu, Wydawnictwo Wyższej Szkoły Logistycznej w Poznaniu, Poznań 2006, Wyd. II zmienione i rozszerzone.
Mikulski J., Systemy informacyjne dla pasażerów i kierowców, Logistyka 2014, nr 3.
Rozporządzenie Ministra Infrastruktury w sprawie szczegółowych wymagań w stosunku do stacji przeprowadzających badania techniczne pojazdów (Dz. U. Nr 25, poz.209), http://dziennikustaw.gov.pl/
Sieregiejczyk M., Analiza możliwości wykorzystania systemów telematyki transportu w ochronie środowiska, Logistyka 2011, nr 6.
Szczuraszak T. (red) Bezpieczeństwo ruchu miejskiego, Wyd. Komunikacji i Łączności, Warszawa 2008.
ul. Przyjaciół Żołnierza, ul. Przyjaciół Ronda w Szczecinie, http://www.zdamyto.com/
Ważna A., Wpływ inteligentnych systemów transportowych na oszczędność czasu w transporcie pasażerskim, Logistyka 2014, nr 6.
Wypadek czy kolizja? http://podlaska.policja.gov.pl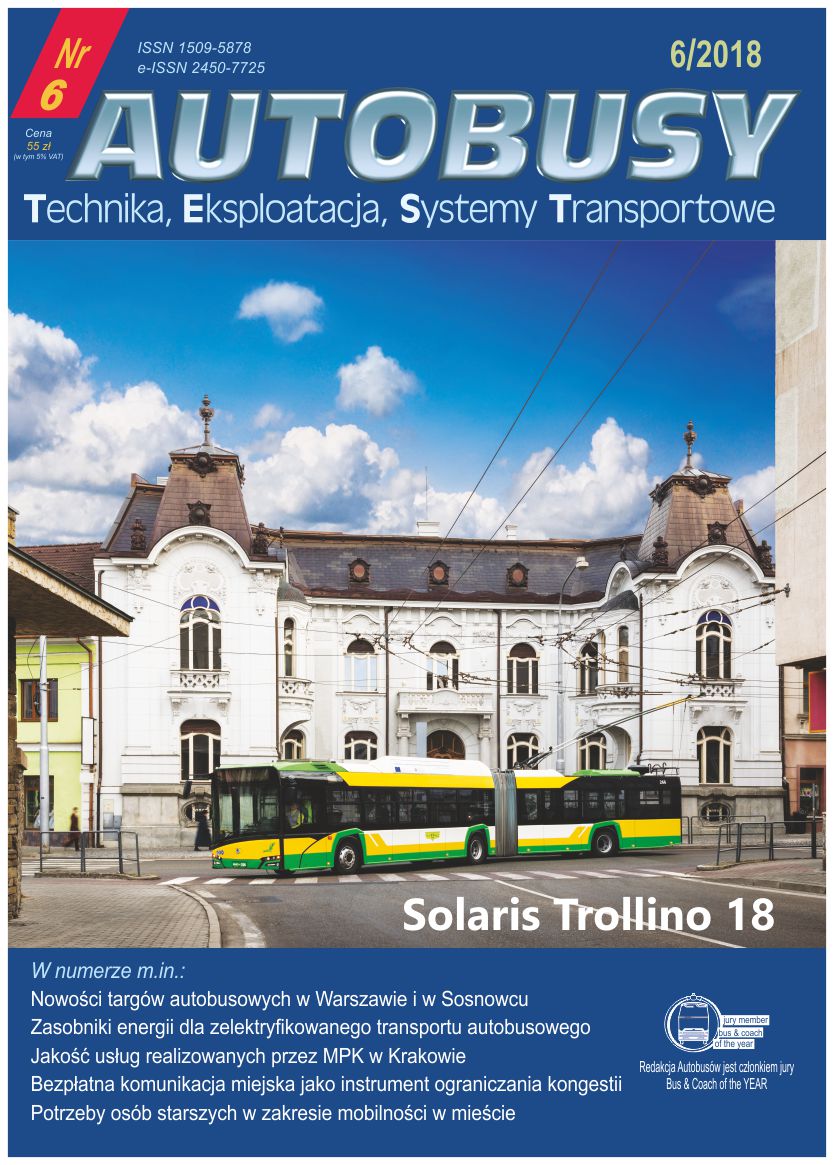 This work is licensed under a Creative Commons Attribution 4.0 International License.