The influence of meteorological conditions on the effects of chlorine emission resulting from a road accident
Lucyna Brzozowska

University of Bielsko-Biala

Monika Niesyto

University of Bielsko-Biala
Keywords:
transport of dangerous goods, chemical threat, traffic accident, leakage of hazardous substances, distribution of pollution, risk modelling, traffic analysis zone
Abstract
In the article was presented the effect of meteorological conditions and aerodynamic roughness of the substrate on the dispersion of dangerous, highly toxic substance - chlorine. Simulations were carried out in the ALOHA program, assuming that as a result of an emergency, 10 tons of liquid chlorine from the tanker carrying it were leaked. It was assumed that the leakage time was one hour. The obtained results were placed on the map taking into account the assumed location: road E463 in Pszczyna. The degree of hazard are analyzed depending on the direction and speed of the wind. Additional simulations were performed taking other leakage points and other aerodynamic roughness.
Downloads
Download data is not yet available.
References
Bochenek A, Klemm K., Wyznaczanie korytarzy przewietrzających przy użyciu metody morfometrycznej dla wybranego fragmentu miasta Łodzi, Budownictwo i Architektura, 2015/4: 139-151
Brzozowska L., Modelowanie skutków uwolnień substancji niebezpiecznych w transporcie drogowym, Wydawnictwo Naukowe Akademii Techniczno-Humanistycznej w Bielsku-Białej, Bielsko-Biała 2015
Brzozowska L., Computer simulation of impacts of a chlorine tanker truck accident, Transportation Research Part D 43 (2016): 107–122
Juda J., Chróściel S., Ochrona powietrza atmosferycznego: zgadnienia wybrane, Wydawnictwo Politechniki Warszawskiej, Warszawa 1980
Kopczewski R., Nowacki G., Zakrzewski B., Zagrożenia chemiczne i ekologiczne podczas przewozu drogowego towarów niebezpiecznych, Bezpieczeństwo i ekologia, 2017/9: 85:92
Kośmider J., Uciążliwość zapachowa, Wikibooks 2016
Matuzik M., Obowiązki przedsiębiorstw w zakresie zapobiegania poważnym awariom przemysłowym, Stowarzyszenie Pożarników Polskich, Brenna 2016
Razin P., Kruszewski M., Kamiński T., Miejsca obsługi podróżnych w aspekcie przewozu towarów niebezpiecznych, Autobusy 6/2016
Rozporządzenie Ministra Środowiska z dnia 26 stycznia 2010 r., w sprawie wartości odniesienia niektórych substancji w powietrzu, Dz. U. Nr 16, poz. 87
Rozporządzeniu Ministra Ochrony Środowiska, Zasobów Naturalnych i Leśnictwa z dnia 28 kwietnia 1998 r. w sprawie dopuszczalnych wartości stężeń substancji zanieczyszczających w powietrzu, Dz. U. 1988 nr 55 poz. 355
Rup K., Procesy przenoszenia zanieczyszczeń w środowisku naturalnym, Wydawnictwo Naukowo-Techniczne, Warszawa 2006
Transport – wyniki działalności w 2013 r., Główny Urząd Statystyczny, 2014
Węsierski T., Majder-Łoparka M., Wykolejenie się wagonów kolejowych z chlorem w Białymstoku, Analiza zdarzenia i możliwych scenariuszy, Bezpieczeństwo i Technika Pożarnicza, 2012/2: 71-80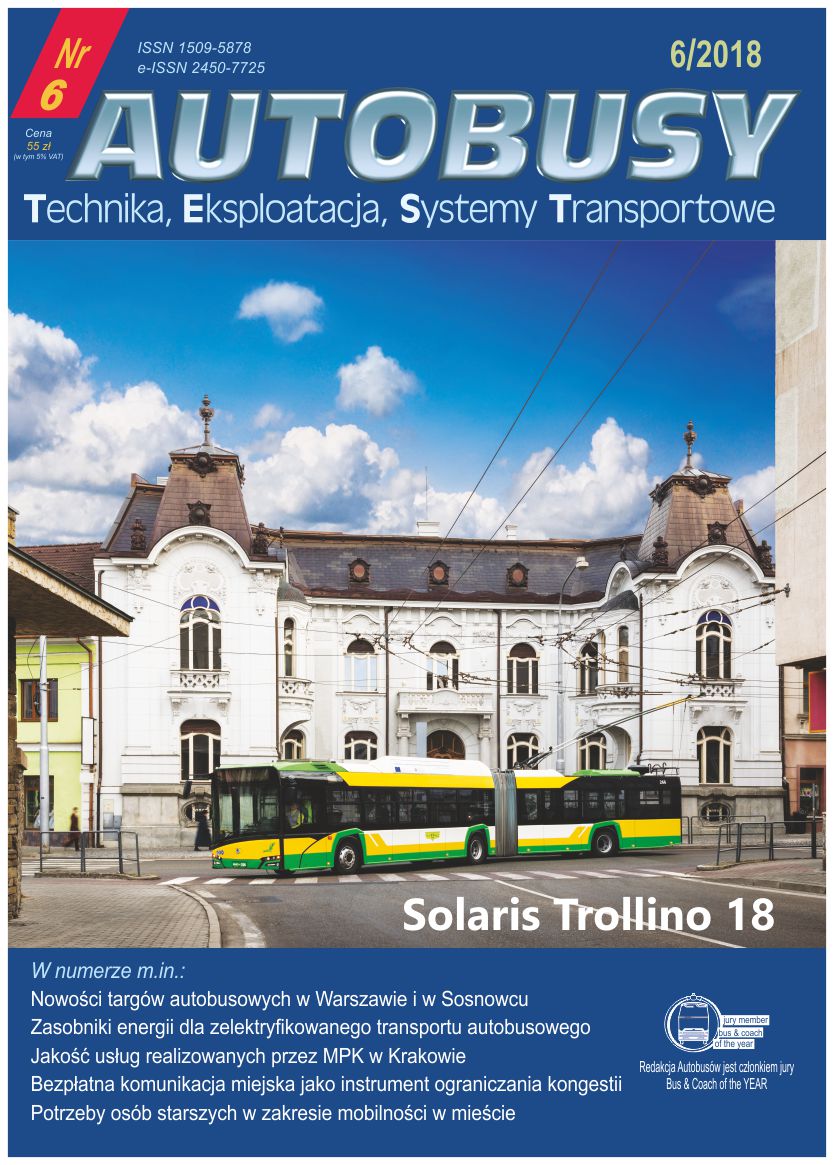 This work is licensed under a Creative Commons Attribution 4.0 International License.