Modeling of the energy storage devices for the evaluation of the energy efficiency in the electric transport
Petru Valentin Radu

Warsaw University of Technology
Keywords:
energy storage device, supercapacitor, battery, energy storage control
Abstract
The purpose of the article is to present mathematical models of energy storage devices with supercapacitors and accumulators. To control the energy storage device, it was proposed to use DC/DC buck/boost invertors and mathematical models are presented. The article gives example of simulation results of the proposed model of energy storage devices simulated in Matlab/Simulink.
Downloads
Download data is not yet available.
References
Al-Ramadhan M., Abido M. A., Design and Simulation of Supercapacitor Energy Storage System, International Conference on Renewable Energies and Power Quality (ICREPQ'12), Santiago de Compostela 2012.
Ayad M. Y., Becherif M., Henni A., Wack M., Aboubou A., Sliding mode control applied to fuel cell, supercapacitors and batteries for vehicle hybridization, 2010 IEEE International Energy Conference, 2010.
Barsali S., Ceraolo M., Dynamical models of lead-acid batteries: implementation issues, "IEEE Trans. Energy Conversion" 2002, Vol. 17 (1).
Bentley P., Stone D. A., Schofield N., The parallel combination of a VRLA cell and supercapacitor for use as a hybrid vehicle peak power buffer, "Journal of Power Sources" 2005, Vol. 147.
Carpita M., De Vivo M., Gavin S., Dynamic modeling of a bidirectional DC/DC interleaved converter working in discontinuous mode for stationary and traction supercapacitor applications, IEEE International Symposium on Power Electronics, Electrical Drives, Automation and Motion, 2012.
Ceraolo M., New dynamical models of lead-acid batteries, "IEEE Trans. Power Systems" 2000, Vol. 15 (4).
Chen S. X., Tseng K. J., Choi S. S., Modeling of Lithium-Ion Battery for Energy Storage System Simulation, IEEE Power & Energy Society (PES) and Wuhan University, 2009.
Cultura A. B., Salameh Z. M., Modeling, Evaluation and Simulation of a Supercapacitor Module for Energy Storage Application, International Conference on Computer Information Systems and Industrial Applications (CISIA 2015), 2015.
Cun J. P., Fiorina J. N., Fraisse M., Mabboux H., The Experience of a UPS Company in Advanced Battery Monitoring, Telecommunications Energy Conference, INTELEC '96, 18th International, 1996.
Dougal R. A., Liu S., White R. E., Power and Life Extension of Battery – Ultracapacitor Hybrids, "IEEE Trans. on Components and Packaging Technologies" 2002, Vol. 25.
Drabek P., Streit L., The Energy Storage System for Light Traction based on the Supercapacitors, International Symposium on Power Electronics, Electrical Drives, Automation and Motion, 2012.
Gao L., Liu S., Dougal R. A., Dynamic lithium-ion battery model for system simulation, "IEEE Trans. Components and Packaging Technologies" 2002, vol. 25, No. 3.
Gao Z. Y., Fang J., Zhang Y., Jiang D. S. L., Yang X., Control strategy research of wayside supercapacitor energy storage system for urban rail transit, 2014 IEEE, 26th Chinese Control and Decision Conference (CCDC), 2014.
Garcia F. S., Ferreira A. A., Pomilio J. A., Control Strategy for Battery-Ultracapacitor Hybrid Energy Storage System, Applied Power Electronics Conference and Exposition, APEC 2009, Twenty-Fourth Annual IEEE, 2009.
Giglioli R., Cerolo P., Charge and Discharge Fourth Order Dynamic Model of the Lead Battery, 10th Int'l Electric Vehicle Symposium, Hong Kong 1990.
Glass M. C., Battery electrochemical nonlinear/dynamic SPICE model, Proc. Energy Conversion Engineering Conf., 1996, Vol. 1.
Guerrero M., Romero E., Barrero F., Milanes M., Gonzalez E., Overview of Medium Scale Energy Storage Systems, Compatibility and Power Electronics, CPE'09, 2009.
Jayne M. G., Morgan C., A New Mathematical Model of a Lead Acid Battery for Electric Vehicles, Eighth Int'l Electric Vehicle Conference, Washington, D.C., 1986.
Jin-uk J., Hyeoun-Dong L., Chul-Soo K., Hang-Seok C., Bo-Hyung C., A Development of an Energy Storage System for Hybrid Electric Vehicles Using Supercapacitor, EVS19, 2002.
Kikuchi T., Aga H. T., Takagi R., Fuzzy Feed-forward Charge/Discharge Control of Stationary Energy Storage Systems for DC Electric Railways, 2014 IEEE, The 2014 International Power Electronics Conference, 2014.
Krawczyk G., Zasobniki energii elektrycznej w transporcie szynowym, "Autobusy – Technika, Eksploatacja, Systemy Transportowe" 2013, nr 3.
Lukic S. M., Wirasingha S. G., Rodriguez F., Cao J., Emadi A., Power Management of an Ultracapacitor/Battery Hybrid Energy Storage System in an HEV, Vehicle Power and Propulsion Conference, 2006.
Maciołek I, Drążek Z., Tram vehicle energy accumulator – on-board or in substation, International Conference SPEEDAM 2004, Capri 2004.
Massot-Campos M., Montesinos-Miracle D., Bergas-Jané J., Rufer A., Multilevel Modular DC/DC Converter for Regenerative Braking Using Supercapacitors, "Journal of Energy and Power Engineering" 2012, Vol. 6.
Michalak J., Jelen M., Jarek G., Skompensowany przekształtnik AC/DC symulujący prace baterii akumulatorów, "Elektryka" 2014, z. 4 (232).
Miller M. J., Energy storage technology markets and application's: ultracapacitors in combination with lithium-ion, The 7th International Conference on Power Electronics, EXCO, Daegu 2007.
Orzyłowski M., Lewandowski M., Zastosowanie rachunku różniczkowego ułamkowego rzędu do modelowania dynamiki superkondensatorów, "Przegląd Elektrotechniczny" 2014, nr 8.
Quintana J., Ramos A., Nuez I., Identification of the fractional impedance of ultracapacitors, In proceedings of the 2nd IFAC FDA'06, Porto 2006.
Radu P., Szeląg A., A Cuk converter integrated with lead-acid battery and supercapacitor for stationary applications, 18th International Scientific Conference on Electric Power Engineering, 2017, Vol. 1.
Salameh Z. M., Casacca M. A., Lynch W. A., A mathematical model for lead-acid batteries, "IEEE Trans. Energy Conversion", 1992, Vol. 7, No. 1.
Schweighofer B., Raab K. M., Brasseur G., Modeling of high power automotive batteries by the use of an automated test system, "IEEE Trans. Instrumentation and Measurement" 2003, Vol. 52, No. 4.
Shi L., Crow M., Comparison of ultracapacitor electric circuit models, 2008 IEE Power and Energy Society General Meeting. Conversion and Delivery of Electrical Energy in the 21st Century, 2008.
Sims R. I., Carnes J. C., Dzieciuch M. A., Fenton J. E., Computer Modeling of Automotive Lead Acid Batteries, Ford Research Laboratories Technical Report SR-90- 154, 1990.
Solero L., Lidozzi A., Pomilio J. A., Design of Multiple-Input Power Converter for Hybrid Vehicles, "IEEE Trans. on Power Electronics" 2005, Vol. 20.
Spyker R., Nelms R., Merryman S. Evaluation of Double Layer Capacitors for Power Electronics Applications, IEE APEC, 1996, Vol. 2.
Szeląg A., Zagadnienia analizy i projektowania system trakcji elektrycznej prądu stałego z zastosowaniem technik modelowania i symulacji, "Elektryka" 2002, z. 123.
Szeląg A., Zwiększanie efektywności energetycznej transportu szynowego, "Technika Transportu Szynowego" 2008, nr 12.
Szumanowski A., Piorkowski P., Chang Y., Batteries and Ultracapacitors Set in Hybrid Propulsion System, Inter. Conf. on Power Engineering, Energy and Electrical Drives, 2007.
Tsukahara K., Kondo K., A Study on Methods to Design and Select Energy Storage Devices for Fuel Cell Hybrid Powered Railway Vehicles, Industrial Electronics Society, IECON 2013 – 39th Annual Conference of the IEEE, 2013.
Westerlund S., Ekstam L., Capacitor theory, IEEE Transactions on Dielectrics and Electrical Insulation, 1994.
Wieczorek M., Lewandowski M., A mathematical representation of an energy management strategy for hybrid energy storage system in electric vehicle and real time optimization using a genetic algorithm. Applied energy, 192, 2017.
Zhang Y., Wu L., Hu X., Liang H., Model and Control of Supercapacitor-Based Energy Storage System for Metro Vehicles, Proceedings of 11th International Conference on Electrical Machines and Systems (ICEMS 2008), Wuhan 2008.
Zygmanowski M., Analiza porównawcza właściwości wybranych wielopoziomowych przekształtników energoelektronicznych przeznaczonych do układów kondycjonowania energii elektrycznej, Politechnika Śląska, Gliwice, 2009, praca doktorska: http://kener.elektr.polsl.pl/materialy/Marcin_Zygmanowski_-_Doktorat.pdf (dostęp 17.05.2018).
Zajkowski K., Zieliński P., Wybrane współczesne metody akumulacji energii w urządzeniach mobilnych, "Autobusy – Technika, Eksploatacja, Systemy Transportowe" 2014, nr 6.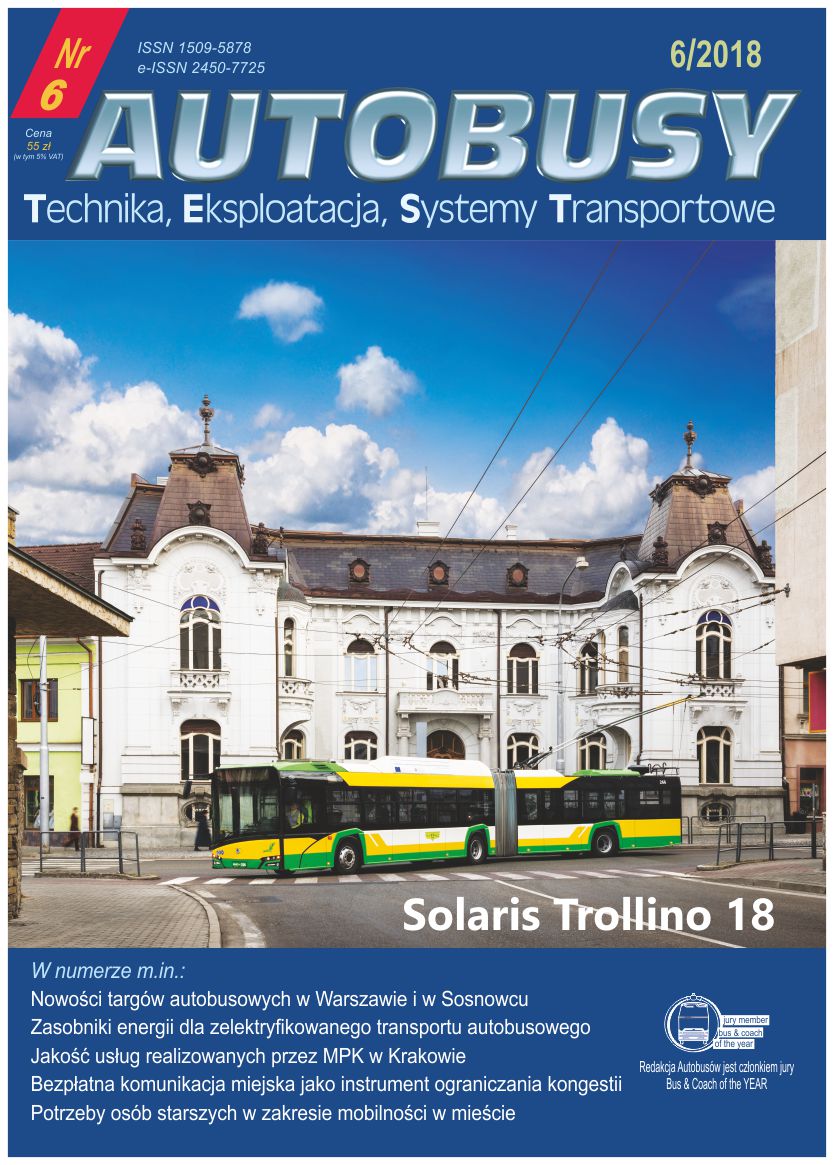 This work is licensed under a Creative Commons Attribution 4.0 International License.