Level crossings – legal situation, design conditions, accidents and it's causes
Paulina Szabłowska

Cracow University of Technology
Keywords:
level crossing, design, accidents, legislation
Abstract
Level crossing is the most dangerous place at which most accidents take place in connection with railway vehicles. While going by train in Poland we pass a level crossing almost every 1.5 km. Many of them do not have any safety devices like light or sound signal or car stops. In Poland there are almost 15 000 level crossings at which around 200 accidents happen with 50 fatalities in a year. These numbers are rising although PKP Polskie Linie Kolejowe S.A. (the main rail infrastructure manager) implements many projects for infrastructure revitalisations and modernisations.In this report the basic types of level crossings and current legal situation are described. Also, basic guidelines and troubles with the subject in question are shown. The author discusses statistical data about accidents and shows its most frequent causes. At the end, the author tries to analyze if it is
Downloads
Download data is not yet available.
References
Bezpieczny Przejazd, http://www.bezpieczny-przejazd.pl/, (data dostępu 09.03.2018r.)
Dz. U 2003, Nr 177, Poz. 1729: Rozporządzenie Ministra Infrastruktury z dnia 23 września 2003r. w sprawie szczegółowych warunków zarządzania ruchem na drogach oraz wykonaniem nadzoru nad tym zarządzeniem.
Dz. U. 2015, Poz. 1744: Rozporządzenie Ministra Infrastruktury i Rozwoju z dnia 20 października 2015r. w sprawie warunków technicznych, jakim powinny odpowiadać skrzyżowania linii kolejowych oraz bocznic kolejowych z drogami i ich usytuowanie.
Dz.U. 1985, Nr 14, Poz. 60: Ustawa z dnia 21 marca 1985r. o drogach publicznych.
Góra I., Działania prowadzone przez Prezesa UTK w zakresie poprawy bezpieczeństwa na przejazdach kolejowo-drogowych, Ogólnopolska konferencja naukowo-szkoleniowa Przejazdy Kolejowo-Drogowe 2017, Warszawa, maj 2017
http://www.codozasady.pl/, (data dostępu 08.03.2018 r.)
Jaździk-Osmolska A., Krajowa Rada Bezpieczeństwa Ruchu Drogowego, Wycena kosztów wypadków i kolizji na sieci dróg w Polsce na koniec roku 2015, z wyodrębnieniem średnich kosztów społeczno-ekonomicznych wypadków na transeuropejskiej sieci transportowej, Warszawa, listopad 2016
Jendryczka V., System bezpieczeństwa w transporcie kolejowym w Polsce, Autobusy: technika, eksploatacja, systemy transportowe, R. 18, nr 6, rok 2017
Kazimierowski P., Przejazdy kolejowe – kosztowny problem dla przewoźników kolejowych, Forum Transportu Szynowego, marzec 2011
KIN.410.003.00.2016: Informacja o wynikach kontroli Bezpieczeństwo ruchu na przejściach i przejazdach drogowo-kolejowych, Departament Infrastruktury NIK, 26.01.2017r.
Przybyłowicz K., Zespół Infrastruktura, Transport, Zamówienia Publiczne (PPP) kancelarii Wardyński i Wspólnicy Koszty utrzymania przejazdów kolejowo-drogowych,
Stott P. F., Automatic Open Level Crossings – A review of safety, Department of Transport, London, 1987.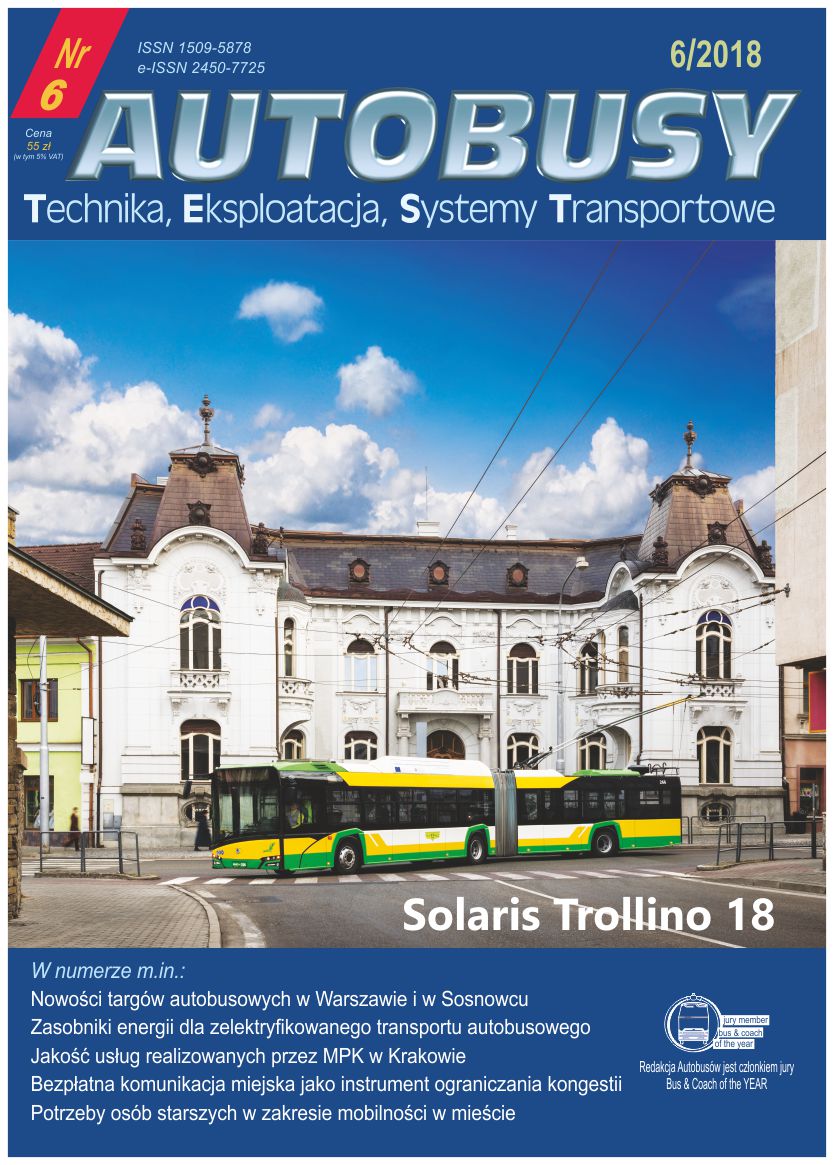 This work is licensed under a Creative Commons Attribution 4.0 International License.